Strategies for Neurotypical People to Develop Empathy for Autistic People
Historically, there has been much debate about the extent to which autistic individuals experience empathy. I am using the phrase "autistic individuals" rather than "individuals with autism," per the recommendation from the Autism Self-Advocacy Network. Recent studies indicate that while autistics may experience and demonstrate empathy in different ways from neurotypicals, they do indeed experience it, sometimes to intense degrees. The debate is well summarized here.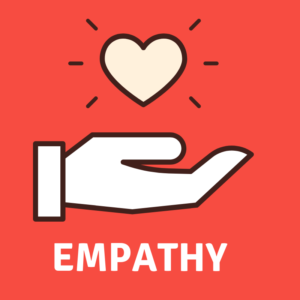 Throughout this discussion, I have observed a curious and glaring omission: what about how and whether neurotypicals empathize with autistics? One of the basic tenets of social skills is reciprocity, an attunement to the back and forth nature of social interactions. If we are examining how well autistics display empathy towards others (the majority of whom are neurotypical), it is only fair to ask how and whether neurotypicals are extending the same courtesy back.
In my work as a school-based occupational therapist, I make a conscious effort to develop empathy towards the autistic children I serve. It allows me to effectively tailor my approach to a child's unique needs, helps us develop a stronger connection, and shows that I am honoring their humanity.  So, how can a neurotypical person best develop their empathy skills towards an autistic person's experience of the world? The old saying, "If you've met one autistic person…you've met one autistic person" comes to mind. There is no one-sized fits all answer, but I will share my top four strategies below. While my strategies are geared towards children, many can be applied to adults as well. I would love to hear readers' additional ideas and strategies in the comments section!
1) Read Autistic Individuals' Memoirs and First Person Narratives
I have found first person memoirs to be invaluable in deepening my understanding and empathy for autistic experiences. My favorite books of this nature include:
Additionally, the following blog posts and websites have powerful first person narratives about what it is like to live with autism (see additional links in numbers 2-6 below as well):
2) Understand Sensory Processing Issues Commonly Experienced by Autistic Individuals
Imagine a specific environment that is extremely overwhelming for you in terms of sensory and emotional overload, such as the airport or airplane. For me, airports contain the perfect storm of specific fear triggers (such as fear that the plane will run late and safety concerns), in addition to many uncontrollable sensory demands of the environment (too loud, too hot or cold, noxious smells that I cannot escape from, a generally confining environment that is very hard to control, unsavory food, etc).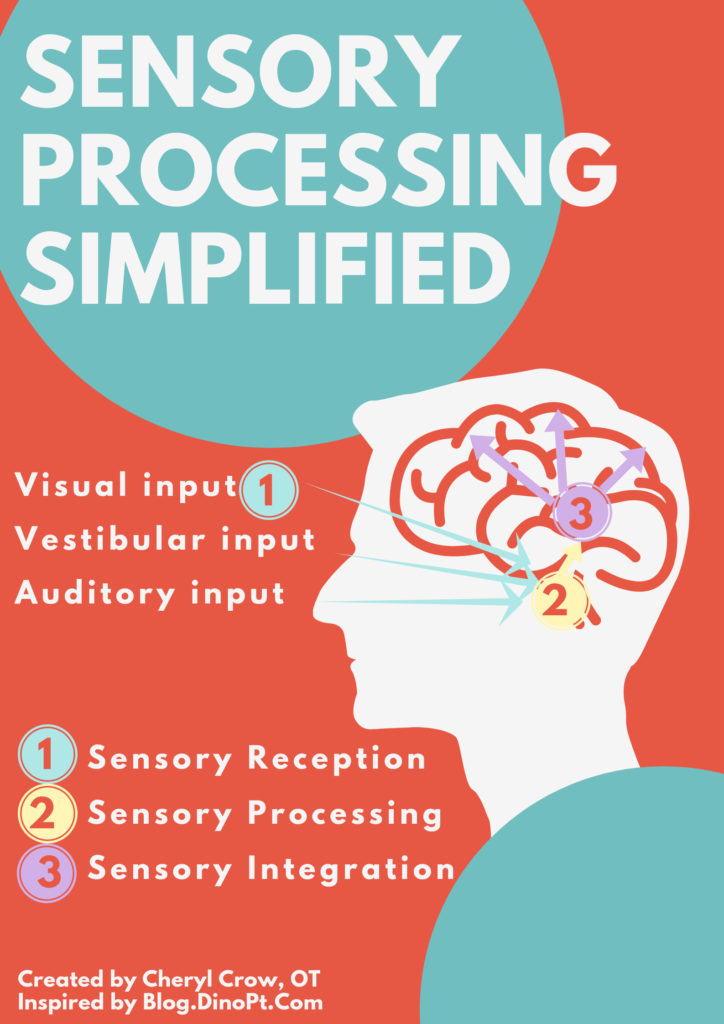 In order to further develop empathy for autistics, I ask myself: what if I had to perform the complex tasks I do every day in the presence of intensely aversive sensory stimuli, such as the airport? How would that affect my ability to focus and maintain a calm, alert state rather than feeling anxious and overwhelmed? This is relevant because every day, when an autistic child attends school, they may be entering an environment they find as overwhelming as I find the airport/airplane. It's easy to see that being expected to perform well in the presence of aversive sensory stimulation quickly puts one into a fight or flight state, which is not ideal for academic or social-emotional learning.
The concept of "sensory overload" is a tad more complex than it may appear on the surface. Sensory processing is the way in which our brains perceive, organize and make sense of sensory input from the five commonly known senses (sight, sound, touch, taste and hearing) in addition to three "hidden" senses: proprioception (body awareness, or our understanding where our body parts are in space), vestibular (balance and motion sense, which starts in our inner ear but can affect many other systems including emotional regulation), and interoception (our internal body sense of items such as hot, cold, pain, hunger and thirst).
For many neurotypical individuals, sensory processing happens unconsciously and smoothly for the most part. As we grow, our brains develop the ability to filter out unnecessary input and to develop "just right" thresholds so that we can function in our daily lives. For example, an elementary student may filter out background noise in the cafeteria in order to focus on a conversation with friends and fluidly shift their focus back and forth between the taste and touch sensations involved in eating, the auditory qualities of the conversation, the visual stimulation of the food, the tactile stimulation of the child's clothing, other children and background movements, and the body awareness and balance demands of sitting, reaching for foods, and accurately placing them in the mouth.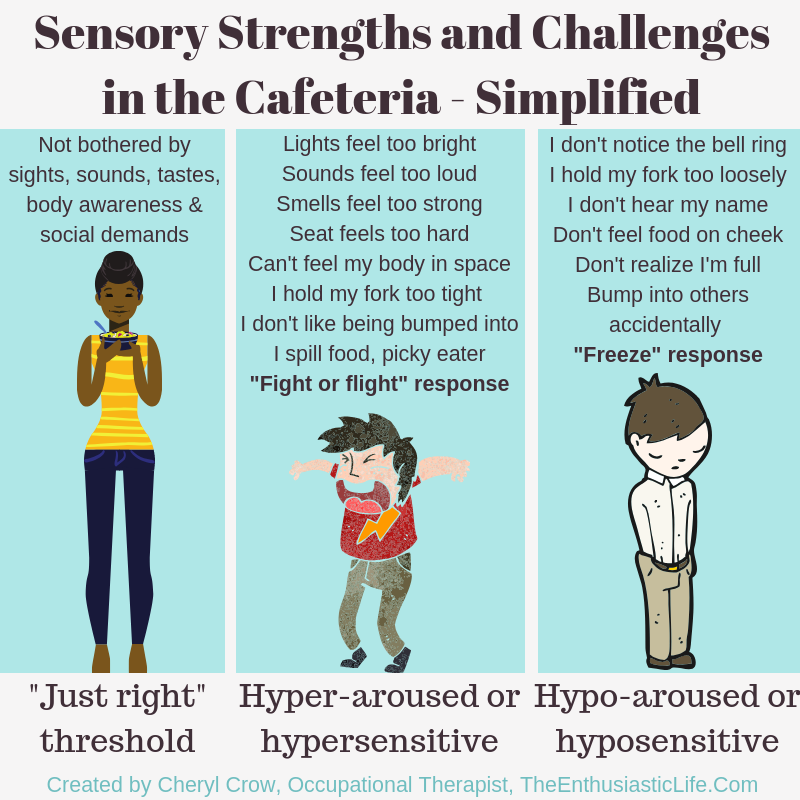 For autistic individuals (and those with a variety of other neurological differences), however, it is well documented that something happens differently in this process, which results in the individual being either "hypersensitive" (detecting and responding to small amounts of input), "hyposensitive" (requiring more input to evoke a response), or a combination of both (most commonly).
Continuing the cafeteria scenario, a child may be hypersensitive to input to the degree that they are distressed by the feeling of the food in their mouth or on their hands or lips, uncomfortable with the feeling of the cafeteria chairs, and overwhelmed by the auditory overload of the lunchroom. A hyposensitive child might have difficulty with sensing where their body is in space, leading them to accidentally bump into others, and they might not perceive that there is food remaining on their lips after the mealtime (which adversely affects them socially). At either end of the spectrum, the child's potential to participate fully in lunchroom activities is disrupted.
It is important for neurotpyicals to examine the extent to which sensory sensitivities are affecting an autistic person's experience of life every second of every day in order to truly empathize with their experience of the world. In addition to the airport analogy provided above, I recommend you do the following:
3) Consider the concept of asynchronous development and challenge your understanding of "high functioning" versus "low functioning autism"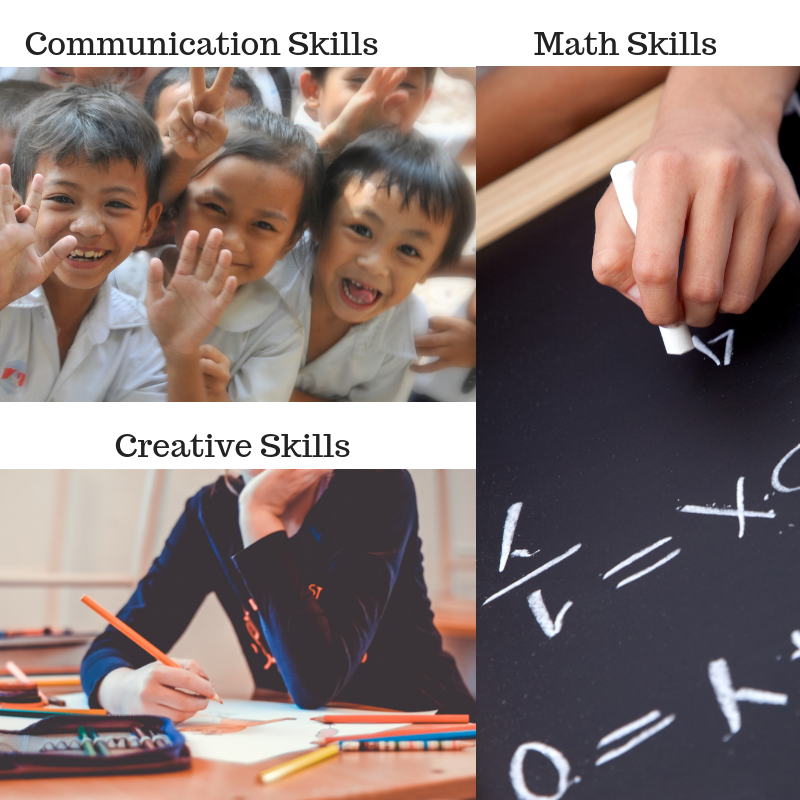 It is crucial for those who work with and love autistic individuals (and those with many other unique neurological profiles, including giftedness) to understand the concept of asynchronous development, which simply means that an individual may have a variety of vastly different abilities across different domains such as motor, social, academic, and emotional skills. I'm sure most adults can look back on their own education and see that their grades and abilities were not always consistent across academic areas. We all have our strengths and weaknesses; the case is simply that for children with special needs, the discrepancy between skills areas is often more drastic than for neurotypicals.
For example, I may be working with an autistic individual who is 10 years old and attending 5th grade general education classes for 50% of the day, yet they may have the impulse control of a toddler, the mathematical and scientific abilities of 9th grader, and the fine motor skills of a 5 year-old. Even that example is a gross simplification, but in general I challenge myself to consider which specific dimension I am evaluating the child on in the moment, and whether I have realistic expectations for them. Remembering asynchronous development helps me further hone in on what is a truly appropriate challenge for a child in a certain skill area.
Simple take-home message: remember that even if a child is "high functioning" in one domain, that does not mean they should be expected to function at high levels across all domains. Rebecca Burgess depicts this concept brilliantly in her comic entitled, "Understanding the Spectrum," where she draws a series of beautiful visualizations to show her relatively high "functioning" or skills in some areas and "low functioning" or challenges in other areas, and how those areas can be different between individuals, all of whom may share the label "autistic."
Some additional helpful articles on the topic of asynchronous development are:
4)  Try to eliminate the phrase, "If they would just do X" from your vocabulary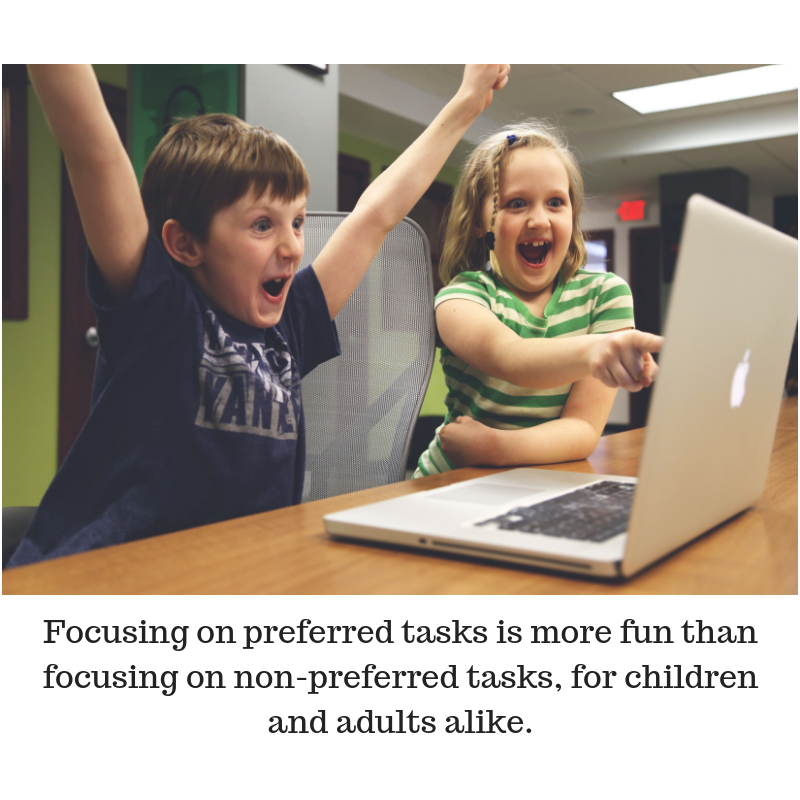 It's not uncommon to overhear adults who work with children on the spectrum saying, "Well, if they can do X, why can't they just do Y?" This is frequently asked with respect to performing differently on academic or attention-related tasks. "Why can they focus so well on Minecraft, but not on their writing homework? Why can they write well about topics they love, yet refuse to write about topics they don't prefer?"
I find this line of questioning problematic. I am stubbornly passionate about the right for any human being to not be 100% consistent all the time, because that is unrealistic even for adults, much less children! As someone trained deeply in activity analysis, which is a crucial analytical approach that occupational therapists utilize, the simple but profound answer to the questions above is that the demands of the tasks you are equivalating (e.g. focusing on Minecraft versus homework) are not in fact equivalent. They are not similar tasks for the child, thus the child will perform differently.
Doing a quick empathy exercise should easily reveal this concept to you; do you perform similarly on all tasks that require a certain skill, such as focusing? Do you find it as easy to focus on a boring board meeting in your professional life as it is to focus on a thrilling movie or TV show? Will telling yourself to "just focus" on a boring meeting really inspire the same state of mind as something you've specifically sought because it is interesting and relevant to you? If the answers to those questions are no, then why are you expecting a child to show consistency across task domains, particularly when children often lack an understanding of the long term payoff of their school tasks?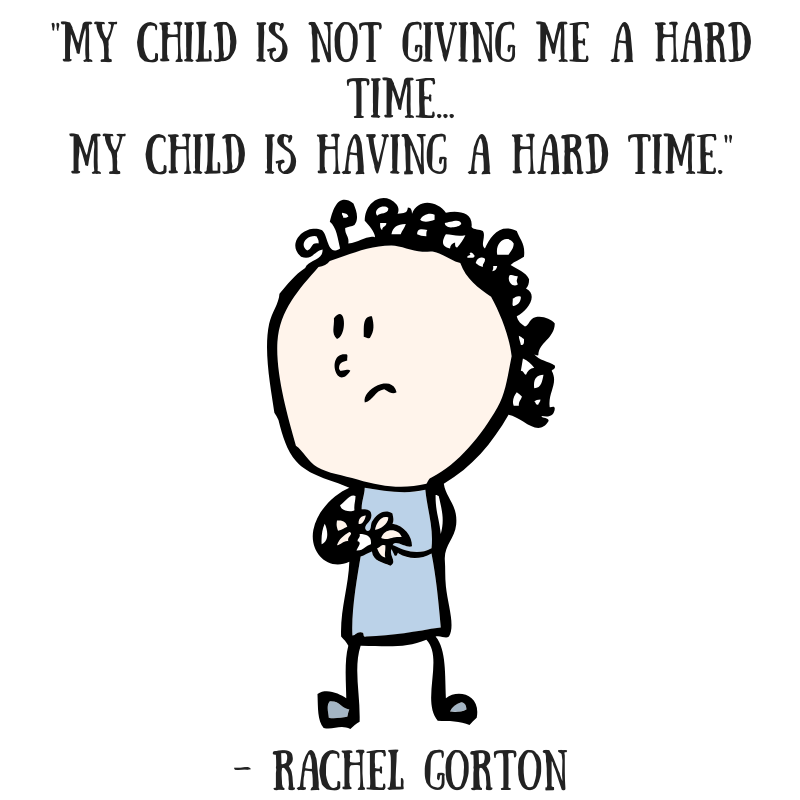 Now, the answer isn't to throw our hands up in the air, or let this phenomenon be an excuse for a child to not try their best even when the task is non-preferred. We all must learn to persist in non-preferred tasks. The difference is that when you approach non-preferred task compliance from the perspective of teaching a child how to persist rather than the perspective of "they just need to," you position yourself in a supportive, teaching role rather than as a disciplinarian, which is a more humane and often more effective approach.
I strive incredibly hard to eliminate the phrase "they just need to" from my vocabulary with respect to working with individuals with special needs. The word "just" is derogatory in this context and lacks respect for the fact that every minute of every day is a challenge for many of the children with whom I work. Yes, children with disabilities are human, and all humans have moments where they don't try their best, and I don't want a child's disability to become a get out of jail free card. However, in my experience kids do well if they can, and if they aren't doing well, it's because they legitimately lack the skills to do so, and my job is to help them acquire those skills.
How do we best help them acquire the essential skills of nonpreferred task persistence? That's a topic for another day (and by no means do I have all the answers), but for now I will say that the most important first step is to identify what is the "just right challenge" for this child, make an appropriate goal based on that, and then provide personalized self-regulation, behavioral and attentional strategies to support them in achieving it.
Conclusion
In NeuroTribes: The Legacy of Autism and the Future of Neurodiversity, Steve Silberman wrote, "By autistic standards, the 'normal' brain is easily distractible, is obsessively social, and suffers from a deficit of attention to detail and routine. Thus people on the spectrum experience the neurotypical world as relentlessly unpredictable and chaotic, perpetually turned up too loud, and full of people who have little respect for personal space."  I absolutely love this sentiment because it provokes the reader to empathize with how strange the minds of a neurotypical person might seem to someone with autism.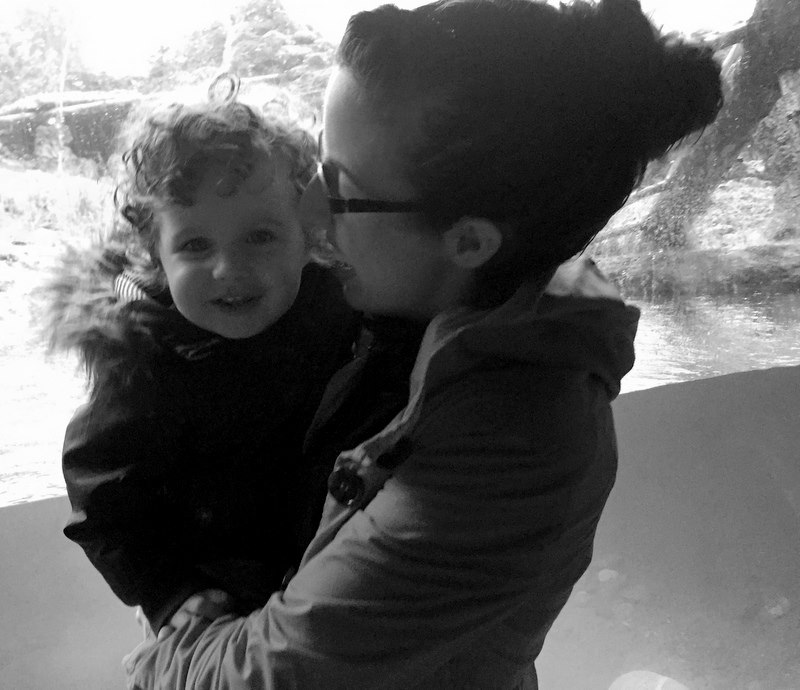 I became interested in working with children with special needs at a young age myself, right around middle school. I found myself fascinated by psychological, behavioral and developmental differences and wondered why some children seemed to see the world so differently than I did. Looking back now, I see that my original interest was really one of intended empathy; I yearned to put myself in their shoes and understand how the children in the resource room experienced the world.
In my work as an occupational therapist in the school system today, whenever I become overwhelmed (which is often!) I find it very grounding to return to this sense of wonder and empathy. In order to determine how to best support a child, I must first attempt to gain insight into their internal mental state and motivation; at times, it leaves me with more questions than answers, but the trade-off is worth it.